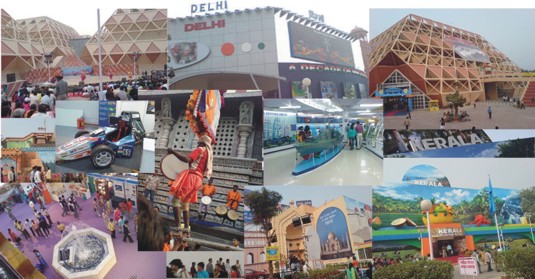 Delhi, being the capital of India is the venue for a number of trade fairs and exhibitions for both consumers and the business community. However, the one trade fair which surpasses all others in terms of importance, magnitude and participation is the
India International Trade Fair
(IITF) which is held at
Pragati Maidan in New Delhi.
A yearly feature in Delhi's events calendar, IITF will be celebrating its 37th run in the Indian Capital and will be held
between 14th-27th November 2017.
Organized by Indian Government's nodal trade
promotional agency
India Trade Promotion Organization (
ITPO
), IITF has had a history spanning more than two decades. Ever since its inception in 1980, the trade fair has proved to be a major crowd pullers for consumers as well as traders, manufacturers, exporters and importers.
IITF 2017
This year too, IITF promises to be a mega event and the organizers are leaving no stone unturned in making it a success. As usual the Trade Fair will take place within Pragati Maidan premises. According to the organizers of IITF 2017, this trade fair aims at providing a platform for Indian manufacturers and traders to showcase their products; it also works as an excellent means of showcasing India's technological advancement and industrial progress. Over the years, IITF has become Asia's largest trade show of its kind, and the Indian economy can only be thankful for the revenues the trade fair generates for the industry and manufacturers. The trade fair actually serves twin purposes. One, it draws interest from global buyers and investors who consider India a fast developing and worthy global trade destination. Two, it emphasizes that the breed of Indian consumer is ever-growing, and that their potential is yet untapped.
IITF 2017 Partner State and Country
Apart from showcasing their wares for the global buyer, IITF also showcases the technological and industrial growth taking place in the different states and union territories of India. Each participating state or union territory is assigned its own pavilion, where they can exhibit the twin spectrum of goods ethnic to their culture, as well as services which cater to a global audience. This year almost all the States and Union Territories of India will be participating in the trade fair, apart from the many PSU's, government ministries and the private sector. When it comes to International Participation, around 350 companies from around 28 countries will be participating in IITF this year. For 2017 Trade Fair, ITPO will be partnered by the state of — and the country —- ; the focus state for the show this year is —- and the focus country is —-.
India International Trade Fair 2017 Theme
Every year IITF has a theme which is given special impetus during the trade show. For the year 2017, the theme is Start Up India.  (The last year theme was Digital India. This year an estimated 6,000 exhibitors will be participating in the India International Trade Fair 2017. The roster of exhibit profile provides an exhaustive list with everything from textiles, garments, household & kitchen appliances, and processed food on display. Amongst products for personal use, jewellery, cosmetics, body care & healthcare products make it to the list. For hardcore B2B sector, Telecommunications, Power, Electronic and Engineering Goods would also be exhibited at the show. The trade fair will be on between the 14th and 27th of November at Pragati Maidan.